CONFERENCE on THE POWER OF CARIBBEAN POETRY – WORD AND SOUND
cambridge, 20-22 September 2012
BRITISH LIBRARY KEYNOTE & POETRY RECORDINGS
A collection of recordings made by the British Library at the Conference on The Power of Caribbean Poetry - Word and Sound is now online and available to listen to. The recordings include readings from poets John Agard, Christian Campbell, Kei Miller, Mark McWatt, Mervyn Morris, Philip Nanton, Grace Nichols, Velma Pollard, Olive Senior, Dorothea Smartt and special guest Linton Kwesi Johnson, who gave a lecture on Jamaican poet Michael Smith; keynotes from Mervyn Morris, Olive Senior and Professor Beverley Bryan; and panel discussions on the Caribbean Poetry Project 2010-2012 and the teaching of Caribbean poetry.
Photo: (left to right) Mervyn Morris, John Agard, Linton Kwesi Johnson, Olive Senior, Christian Campbell


PAPERS AND PRESENTATIONS
A selection of the papers and presentations from the conference held in Cambridge from 20-22 September 2012 are listed below. We will be adding to the collection as further papers are submitted. Click on the link to access the relevant pdf.
Anthony Kellman's Polyphonic Poetic and Cultural Identity, paper given by Dr Silvia Anspach, Centro de Estudos Universais, São Paulo, Brazil. Paper
The poet's own voice: learning and teaching on the online Poetry Archive with recordings of Caribbean poets, presentation given by Julie Blake, Education Manager, Poetry Archive. Handout
Taking it personally - an approach to teaching Caribbean Poetry, workshop given by Crispin Bonham-Carter, English teacher, Alexandra Park School, UK. Paper
Sounding Silence, paper given by Anne Collett, Associate Professor, School of English Literatures and Philosophy, University of Wollongong, Australia. Paper
Derek Walcott: A Saint Lucian Poet, 'between the country and the town', paper given by Dr Morgan Dalphinis, co-authored by Robert Lee. Paper
Deciphering the 'father tongue' in Marlene Nourbese Philip, paper given by Claudia Maria Fernandes Corrêa, Ph D candidate at the Faculty of Letters, University of São Paulo, Brazil. Paper
Mutations of character, form and language in the poetry of Anthony McNeill, paper given Anthony Kellman, Professor of Creative Writing, Augusta State University, Georgia, USA. Paper
An approach to teaching Caribbean poetry in Japan, presentation given by Eri Koybayashi, Wayo Women's University, Japan. Presentation
Approaches to teaching Caribbean Poetry: Towards a Caribbean literary aesthetic in poetry, John Lyons, painter and poet, UK. Paper
"The rude work of harvesting hymns": Christian Campbell and post-independence aesthetics, Stephen Narain, Iowa Writiers' Workshop, University of Iowa. Presentation, Source Paper
Variations in Characterization for Philoctete in Derek Walcott's Omeros, paper given by Faezeh Barghi Oliaee, France. Paper
In a different voice: Caribbean-Canadian poetry for children, paper given by Professor Lissa Paul, Brock University Faculty of Education, Canada. Paper
BLOGS
Here are links to some of the blogs that were posted after the conference. We hope you enjoy reading them.
Research Horizons, University of Cambridge
Chris Holifield, Director of Poetry Book Society
British Library, English and Drama Curators' Blog
Professor Veronica Austen, University of Waterloo
Cambridge Children's Literature Students' Blog, Erin Spring
Photo: Speakers and Poets from across the 3 days of the conference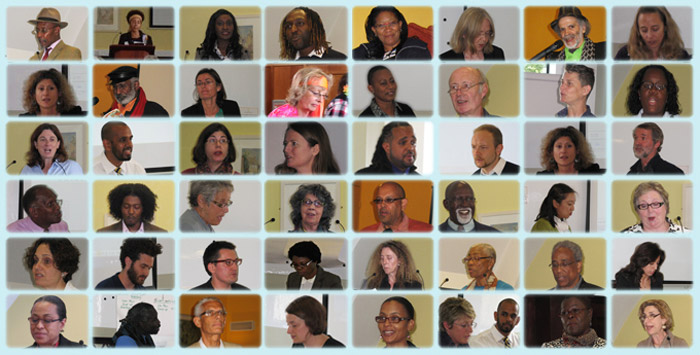 Conference Report
The Caribbean Poetry Project (CPP) conference, under the auspices of the Faculty of Education Centre for Commonwealth Education (CCE), was held at Homerton College 20-22 September 2012. It was a great success with participants using words such as 'historic', 'landmark', 'unforgettable' and 'phenomenal' to describe it. The conference was inspiring and cutting edge, as well as being marked by a particularly warm and friendly atmosphere throughout.
We were delighted that the entire CPP team of ten who have been working together for the last two and a half years was able to attend the conference and, indeed, give papers or lectures. The team, who also did most of the introductions and thanks to speakers, included six members from the University of the West Indies (UWI) based at Mona in Jamaica, Cave Hill in Barbados, and St Augustine in Trinidad. In addition, we were joined by three associate members based in Barbados, plus four British / Caribbean poet associate members. The CPP team may live an ocean apart but we share the same views, values and ambitions for the teaching of Caribbean poetry.
There were many outstanding keynote lectures or poetry readings, all but one (Professor Beverley Bryan) given by poets, including Christian Campbell, Linton Kwesi Johnson, Anthony Joseph, Kei Miller, Mervyn Morris, Grace Nichols, Olive Senior and Dorothea Smartt. The evening poetry entertainments were similarly exceptional with electrifying performances by John Agard, Mark McWatt, Velma Pollard and others.
Excellent papers were given by scholars from many parts of the world, including Australia, Bahamas, Barbados, Brazil, Canada, Czech Republic, France, Germany, Guyana, Jamaica, Japan, Poland, St Lucia, Trinidad and the USA, plus a whole range of universities within the UK. There were also workshops and seminars given by international teachers and those who had taken our Teaching Caribbean Poetry course in Cambridge, as well as members of the Poetry Society and the online Poetry Archive. Representatives from the Poetry Book Society, the South Bank Arts Centre and Peepal Tree Press added to the richness of the mix. Many scholars were keen to be associated with the project and one of our next tasks will be fostering further international links.
One of the most exciting – and distinctive – features of the conference was that, however erudite the talk or eminent the speaker, all who took part in this conference were interested in the learning and teaching of Caribbean poetry in schools as well as in the literary, political and academic ideas relating to the poetry itself. Moreover, in very few academic conferences is the performance of poetry represented as richly and strongly as it was here (a particularly appropriate dimension for a body of work in which voice and performance play such vitally central roles). As one commentator put it, the conference was 'a poem in itself'. Two strong threads were evident in most of the presentations – the histories behind Caribbean poetry, and the pervasiveness and power of Caribbean landscapes and issues relating to environment in the poetry.
CPP colleagues, David Whitley and Georgie Horrell, had a great deal to do with organising the conference and ensuring its smooth running, and Roz Hudson (Research Associate), Erin Spring (Research Assistant) and Ashley Wilson (doctoral student) worked tirelessly throughout. The conference owes a huge debt to the efficiency of Bryony Horsley¬-Heather and her colleagues in the CCE office and to Mike Younger, Director of CCE.
We are grateful to our funders, the Commonwealth Education Trust, without whom the conference could not have been so rich or diverse, and to the Research Committee of the Faculty of Education, the Judith E. Wilson Fund and Routledge for contributing to costs.
Professor Morag Styles, September 2012